City tour Dresden
City tour Dresden
Fascinating buildings, baroque architecture and legendary art treasures, Dresden impresses as a total work of art. With a wealth of sights, the "Florence on the Elbe" offers a multitude of museums, churches and exhibitions. Visitors to Dresden can explore the city's landmarks in a unique way on a city tour. The Dresden Hop On Hop Off Tour with its 22 stops on the double-decker bus line 1 offers the possibility to interrupt the tour at any time and continue with another bus. Without any time pressure you can plan your own individual tour to explore some of the sights for a longer time. Whether you take part in one of the interesting guided tours around the Frauenkirche or join one of the exciting night watchman walks at dusk, you will enjoy the beauty of the city in a relaxed manner.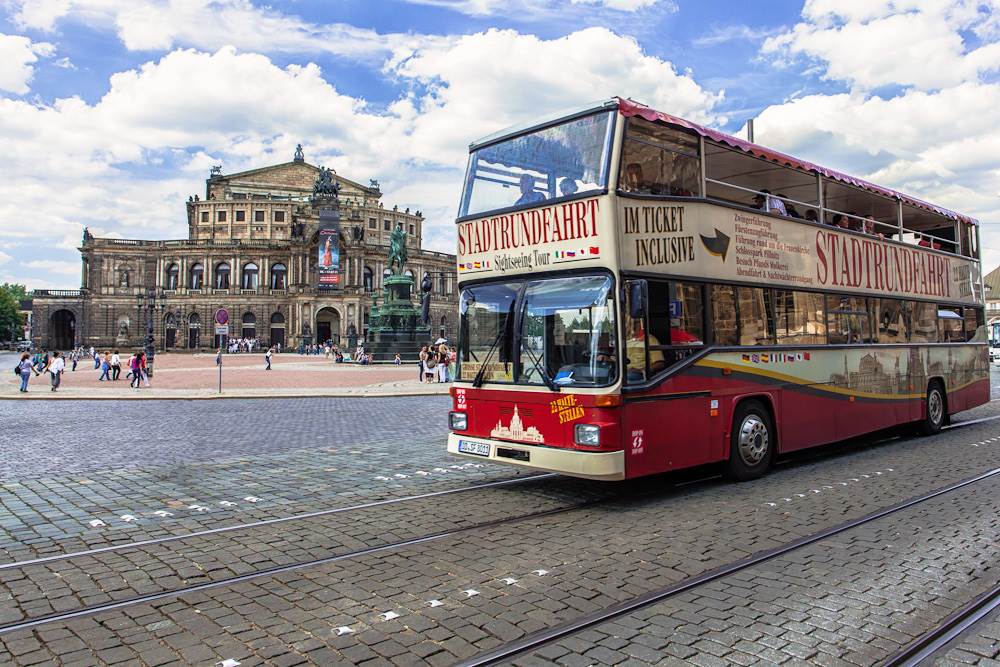 Dresden city tours – a unique experience
Whether Semper Opera, the Blue Wonder or the Frauenkirche, Dresden has a lot to offer its visitors. Whether in a historical double-decker on the streets of the old town or in a classical and elegant way with carriage and horse, with the city tours through Dresden, the visitors get an incomparable experience in any case. With the help of exciting details and funny anecdotes about the city, you will not only get to know the historical part but also the modern and youthful face of the city on a city tour through Dresden. In addition, visitors can also explore the surroundings of Dresden with its numerous palaces and castles on a tour. Practical: The tours can be booked online in advance.
All information about the different city tour options, prices and online booking can be found on the homepage of our partner company STADTRUNDFAHRT – discover the world. Just follow this link: https://www.stadtrundfahrt.com/dresden/